Flowers are well, so flowery and yet they have an essence of vibrancy and bonhomie. I'm not talking about the garden basics here but flowery prints on shirts that look amazing.
Florals have been a perennial runway hit and tastemakers around the fashion capitals have given it a thumbs up!
Although floral prints have a more tropical feel, men are wearing them on their shirts, scarves, bags, accessories, shoes and even hats in almost all climatic extremes and corners of the world.
Speaking of runway trends, one brand that resonates with flower power is BLAQUA - possibly the best floral print shirts I have ever laid my eyes upon happen to be made by this brand! The prints are a work of art and shirts are a truly a brilliant specimen of fine tailoring with a wide range that can not just satisfy your style tastebuds but you'd be tempted to match them with tasteful and classy and almost matching line of accessories!
Founded in 2008, BLAQUA is the favored brand of of musicians & discerning individuals who exude style & taste! BLAQUA also offers bespoke services for men of substance besides offering

a sophisticated destination to the modern man's sartorial needs.
Clothes maketh the man and fine tailoring can transform you into a fine gentleman! Head to BLAQUA for the best floral print shirts and classy accessories.
STORE LOCATION:
Blaqua (Soho)
9 Newburgh Street
London
W1F 7RL
Normal Opening Hours:
Monday to Saturday 10am to 7pm
Sunday 12pm to 5pm
You can also pick some of BLAQUA's excellence ONLINE! Click banner below to be directed to their Online Shopping portal ->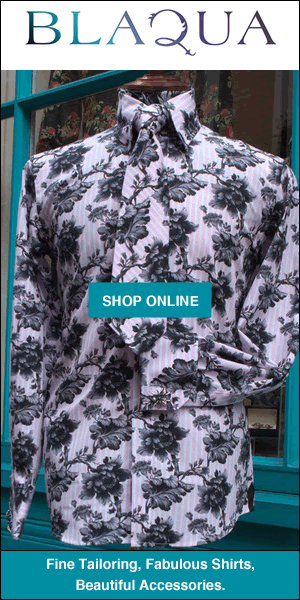 My favorite picks, Images credit - BLAQUA - Great Assortments of stunning Prints....
Blue Turquoise and Pink Photo Print Shirt
Purple and Pink Large Floral Print Shirt
Turquoise and Pink Striped Shirt with Purple Flowers
Turquoise and Yellow Lily Print Shirt
white and multi coloured morning glory print shirt
Match your neck-piece with your Tie or pick out a contrast...
Colorful Cufflinks can add the extra "zing" to your personality!
Vitrail Rainbow Crystal Greek Key Cufflinks
*Sponsored Content
-Amit Anand